Granulation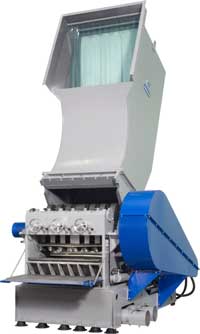 In the granulation stage the shredded tire chips are ground down to a crumb size of approximately 4mm.
At this point the material is virtually metal free and can be used in various applications or processed further in a pulverizer to achieve a finer powder.

For this application the GSH granulators are equipped with special wear resistant components. This wear protection includes housing wear plates and screens manufactured from highly wear resistant steels as well as hard facing of critical areas.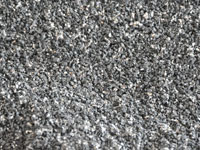 In order to increase the throughput, ZERMA's twin screw force feeder can be used on the granulators.
Specifications and Dimensions
| Type | 700/1000 | 800/1200 |
| --- | --- | --- |
| Rotor diameter (mm) | 700 | 800 |
| Rotor width (mm) | 1000 | 1200 |
| Number of rotor knives | 7 x 2 | 9 x 2 |
| Number of stator knives | 3 | 3 |
| Dimensions | | |
| A (mm) | 2200 | 2320 |
| B (mm) | 2080 | 2200 |
| C (mm) | 1700 | 2000 |
| D (mm) | 1060 | 1380 |
| E (mm) | 3180 | 3780 |